CASE 98. From Kraft-Ebbing's "Psychopathia Sexualis": A lady told Dr. Gemy that in the bridal night and in the night following her husband contented himself with kissing her, and running his fingers through the wealth of her tresses. He then fell asleep. In the third night Mr. X. produced an immense wig, with enormously long hair, and begged his wife to put it on. As soon as she had done so, he richly compensated her for his neglected marital duties. In the morning he showed again extreme tenderness, whilst he caressed the wig...
The result of this marriage was, after five years, two children, and a collection of seventy-two wigs.
If YOU find yourself with extra wig money to spare please consider buying the painting Linus The Cat is shilling in the below photograph here.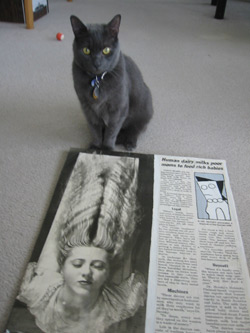 And because I have NO shame (at least when it comes to online begging), you are always encouraged to click on the black and white cartoons on this page which are also for sale.
Metaphorically wearing dark glasses and shaking a cup with a few coins, whilst speaking gibberish,