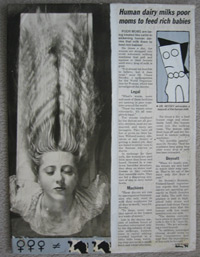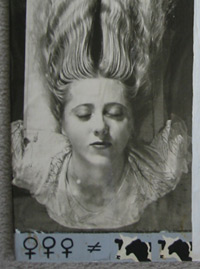 SOLD!!! Sorry you missed it, do feel free to purchase something else and/or read the old descriptive text below. Perhaps I'll put more of these older paintings up on the site, although don't hold your breath, as it will probably take a while and you'll have long since passed out.
FOUND!!! First appearing on this site back in 2003, and 'twas thought lost. However much like "The Amazing Grace" lyric "now ['tis] found".
This was originally part of a series of paintings I did back at the end of the eighties (see others and read more about their genesis here if you're so inclined), and now with it's veneer of aged yellowing, can only be seen as more, uh, "interesting."

Click on the photos to see enlargements and details and envision it hanging on a wall in your private opium den...

Title: Women Are Not Cows (The Fist-Waving Political Series)

Year: 1989

Medium: Accrylic, Photocopies, and Man Ray Poster on board

Dimensions: 18" wide by 24" tall

Price: SOLD in 2009!!! Although if you're really curious, it went for $199.00. Alas, it could have been yours had you been more cavalier with your money and acted sooner.