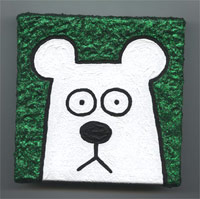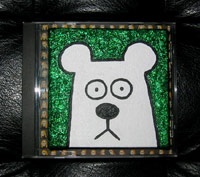 SOLD!!! Sorry you missed it, do feel free to purchase something else and/or read the old (now slightly revised) descriptive text below. I may very well be working on a couple more of these tiny "Mildly Dysphoric Bear" paintings with glittery silver and blue backgrounds, but not right away.
This was sorta an experiment. I've been SLOWLY painting some larger "works" but until I get enough of those together to 'go public' I thought I'd whip out something much smaller in a quicker fashion and see if anybody out there might want one to brighten their home. Click on the images to see the canvas almost "actual size" in digital photos.

Title: Larynx-ripping Shriek of the Demon Lover (a.k.a. Mildly Dysphoric Bear on Green Glitter Background).

Medium: Acrylic on Canvas

Dimensions: 4" wide, 4" high, and approximately 7/8" uhhh... 'thick'

Price: SOLD!!! Although if you're really curious, it was $100...

Will there be more tiny paintings in the future? Quite possibly, but I guarantee nothing.